There are rules and regulations in regards to the coffins or caskets used for the repatriation of remains. Coffins must be hermetically sealed to comply with International Airline Regulations. There are different ways to ensure a coffin or casket used for body repatriation is hermetically sealed;
A wooden coffin will need to be zinc lined, this means the coffin will need to be made airtight and hermetically sealed to meet the requirements for the repatriation of remains. If the coffin is to be used for the funeral back home, we can use a zinc cad-seal which also meets airline regulations. This can be easily removed by the funeral director at home so the coffin can then be used for the funeral too. 
Most metal caskets will be hermetically sealed and will not need to be zinc lined, these caskets can still be reopened at the funeral in the home country. If a metal casket cannot be hermetically sealed, we can use the zinc cad-seal system described above to ensure the casket is hermetically sealed.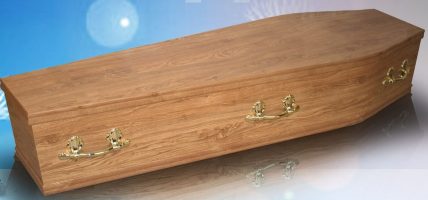 Wooden repatriation coffins
As standard, we include the cost of a wooden repatriation coffin which is zinc lined, in our quotation. If preferred, we can cad-seal rather than zinc-line if you wish to use the coffin for the funeral at home. An image of the wooden repatriation coffin is above.

Italian repatriation coffins
There are strict requirements for how a repatriation coffin is prepared prior to reparation to Italy. A solid, wooden casket is required for repatriation of remains to Italy which must be zinc lined. An image of the coffin we use to meet Italian regulations is above.

Metal repatriation caskets
We understand that some would prefer to have a metal casket for their loved one, and we have a large selection of metal caskets to choose from. Some are not able to be hermetically sealed however if this is the case we will cad-seal the casket to ensure we comply with the regulations for body repatriations.

Metal caskets are not included in our quotation, typically we offer a standard (most popular) metal repatriation casket for an additional £500.00.

Some images of our repatriation caskets are above. They are available in a variety of different colours.
Alternative coffins and caskets
If you are looking for something a little different to a wooden coffin or casket, we are able to provide a number of different styles. Please feel free to choose a coffin from the following guide and we can advise on whether it is possible to use that particular coffin or casket for a repatriation of remains. Click here for more information
We hope that this helps answer some of your questions. To proceed with our services, we require you to complete our authorisation form which can be emailed, posted or completed at one of our offices in the UK. Once we have received the death certificate and passport, we can begin the repatriation procedure and will keep you updated at every stage. Contact us to begin arrangements or ask any further questions you may have